Pot Chiclets - Spectrol 148/149, 248/249 and Bourns Type 91 potentiometer DIY aid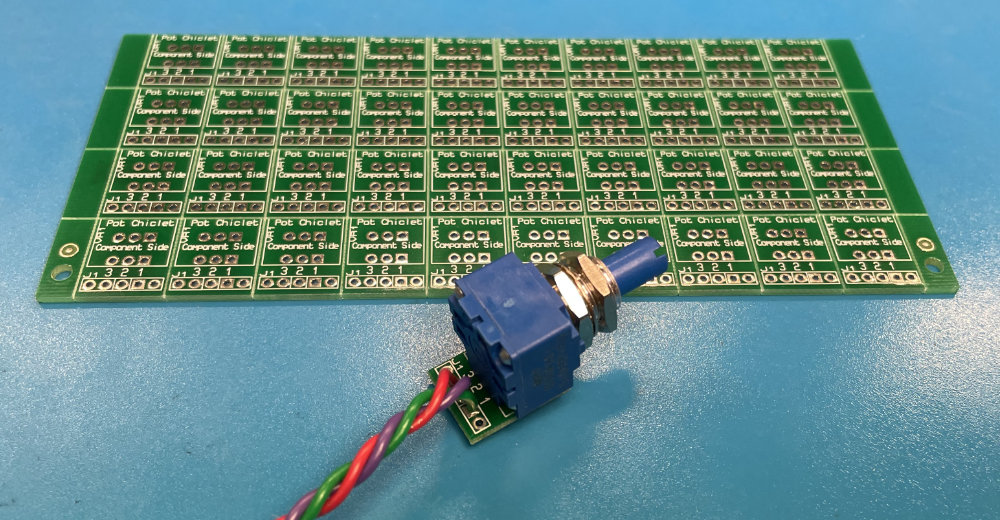 Pot Chiclets are small printed circuit boards to aid assembly of MOTM format kits with Spectrol 148/149 or 248/249, Bourns Type 91 potentiometers and other 3 pin 0.1" spaced PCB mount pots.
No more painstaking and time consuming J lead preparation and heat shrink is required! Free standing Spectrol pots without PC board mounting pad locations typically require bending and forming the pins into J leads, doing the same to the wires to be attached, hooking the two J leads then soldering each pin/wire together, hoping you didn't forget to add heatshrink over the wire before soldering. With Pot Chiclets, simply solder your potentiometer to the PC board, then solder wires to the PC board. You're done! Boards are professionally manufactured, silk screened, double sided copper with plated through holes and solder mask.
Applications:
MOTM/Bridechamber/Synthcube 2U module kits with a second row of Spectrol (black) pots. Some 2U MOTM kits use a Bourns (blue) pot with solder tabs. Pot Chiclets are not necessary for those kits, but can be used with Bourns pots with PC terminals.

CGS PCB conversions to MOTM format with Spectrol or Bournes PC terminal pots. All pot connections can use Pot Chiclets to simplify construction.

Blacet kit conversions to MOTM format. All pot connections can use Pot Chiclets to speed up construction.

Other PCB, DIY, kits and conversions using Spectrol 148/149 or 248/249 or Bournes Type 91 pots, such as Tellun Labs, Music from Outer Space, Oakley and others. Almost any Bride Chamber panel based project can benefit from Pot Chiclets.

Pot Chiclets

are

fully compatible with Bourns Type 91 PC Terminal Potentiometers. See the photo below. Pads are located in the center of the board to perfectly match Bourns Type 91 PC terminal Pots.
Most other pots with 3 pin 0

.1 inch

spacing PCB mount pins will work with Pot Chiclets as well.

Since there is one Pot Chiclet per pot, any pot panel spacing or density is supported.
Installation Notes:
While 248/249 pots are installable on Pot Chiclets, the smaller 248/249

base

gives the pot a cantilever action with the PC board. Also, 248/249 pots have a different feel than 148/149 pots, not as smooth as standard MOTM pots. It is highly recommended to use 148/149

pots

as the cost is not much higher than the 248/249 versions. The 148/149 have a sufficiently long base that a very secure platform is created with the PC board, more secure than wires soldered directly to PCB pins.

Soldering is similar to MOTM kits. Install the potentiometer to the Pot Chiclet before assembling the pot to the panel. The Pot should be flush to the PC board, in the VR1 position. The easiest way to do this is to solder pin 1 first, then hold the PCB and pot together and heat the pad again, forcing any gaps away. Make sure you don't accidentally solder the pot into the J1 position. Then solder the other two pins. Mount to Pot/PCB assembly to the panel, and solder the wires to the provided J1 position.

You can optionally add 3 pin 0.1 inch spaced headers instead of wire connections, but this is not necessary and actually less reliable over time than direct soldered connections. It also increases your assembly time.

Pin numbering 1, 2 and 3

match

MOTM PC board pot/wire pin numbering.

Extra pads are included for pins 1 and 3 to allow easy daisy chaining of connections from pot to pot. For instance, ground or power connections may not always be provided to each and every pot from DIY PC boards. Just use the extra pad for daisy chaining of wire conecctions.

J1 holes are large enough to accept standard hookup wire - 22 AWG tinned wire leads.

Pot Chiclets have plated through holes for easy soldering from either side of the PCB. The solder will flow into the hole so the soldered pins and wires are more secure.

If applying a lot of force to bend wire soldered to the Pot Chiclet,

be

sure to hold the PC Board and pot together so the two are not separated. It is best to secure pot wires collectively with tie wraps for support.

Pin 2 is the center tap lead. As the pot is moved in a clockwise direction, the tap value moves from zero ohms between leads 1 and 2 and maximum resistance between leads 2 and 3 (knob at "0") to zero ohms between 2 and 3 and maximum resistance between leads 1 and 2 (knob at "10"). In standard pot terminology, clockwise knob direction moves the pot from pin 1 to pin 3. Typical connections are ground or -VCC for pin 1, summing node op amp input for pin 2, and Jack input or +VCC for pin 3. However, if the inverting function of an op amp is being used, the connections can possibly be reversed for +/- VCC connections.

Questions? Email: John Loffink.
Prices:
50 cents each
(US $0.50), plus the following shipping & handling (S&H) charges per order.
Price and S&H charges based upon payment through PayPal only. Send payment to PayPal account

jloffink@gmail.com

. Shipping prices updated February 2021.
USA, sent First Class Mail:
1 to 100 Pot Chiclets, $0.50 per Pot Chiclet plus $3.50 S&H
101 to 200 Pot Chiclets, $0.50 per Pot Chiclet plus $4.00 S&H
Canada & Mexico:
1 to 100 Pot Chiclets, $0.50 per Pot Chiclet plus $7.50 S&H
101 to 200 Pot Chiclets, $0.50 per Pot Chiclet plus $8.50 S&H
International (other than USA, Canada or Mexico)
1 to 50 Pot Chiclets, $0.50 per Pot Chiclet plus $8.00 S&H
51 to 100 Pot Chiclets, $0.50 per Pot Chiclet plus $9.00 S&H
101 to 200 Pot Chiclets, $0.50 per Pot Chiclet plus $12.00 S&H
Pot Chiclets fully support Bourns Type 91, Alpha 9mm RD901F and BTI pots in addition to Spectrol pots. Pot Chiclets also have

extra pads

for pins 1 and 3 for daisy chained connections. All holes are plated through for easy and secure soldering from either side.
Board top and bottom

views ,

next to a Bourns Type 91 potentiometer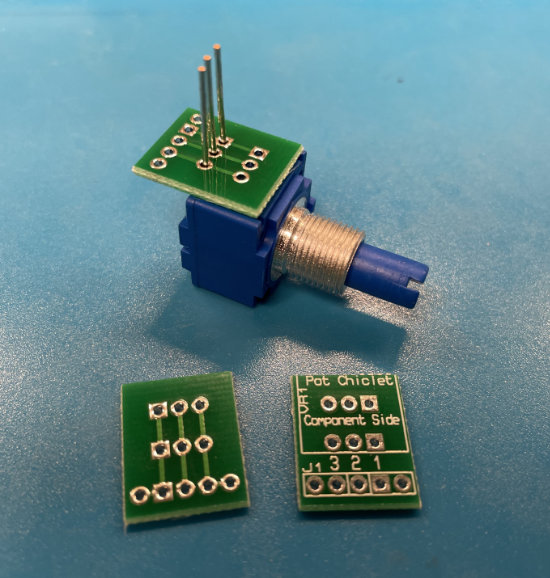 Board top and bottom

views,

next to a Spectrol 249 potentiometer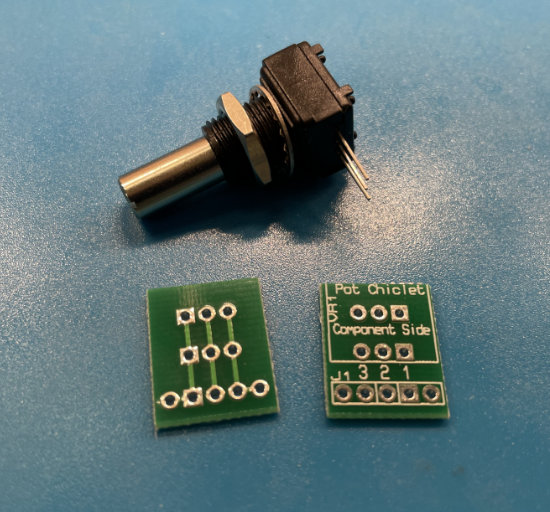 A single Pot Chiclet soldered to the Bourns potentiometer, Bottom View.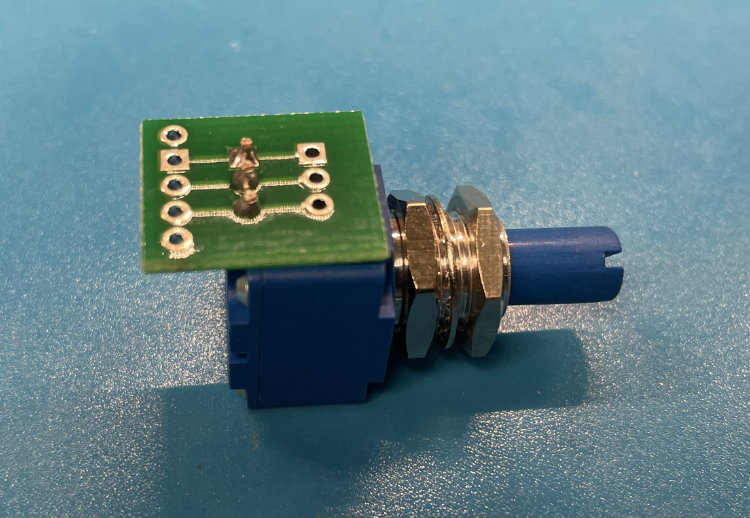 A single Pot Chiclet with Bourns Potentiometer, Top View.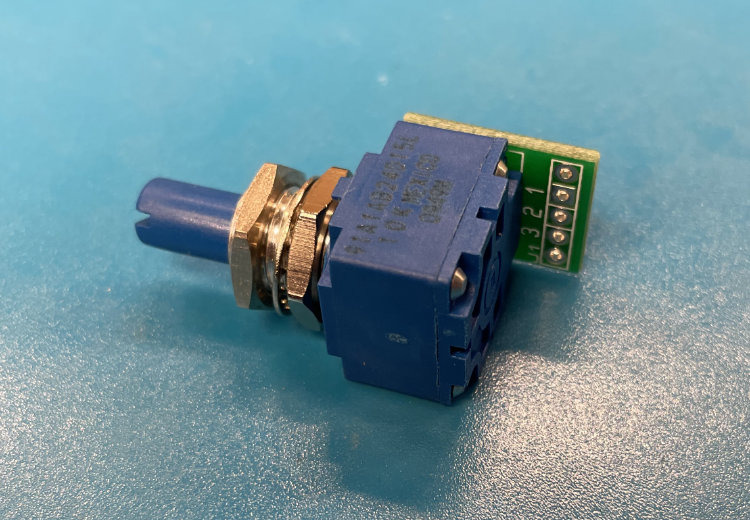 A closeup of a Spectrol potentiometer and Pot Chiclet assembled on a MOTM panel.